test
"My hair is short. I don't think I need to brush my hair?"
"I'm losing hair… I don't dare to brush it."

Did you know our scalp ages 6 times faster than our facial skin? An unhealthy scalp is often the reason why you have to say goodbye to your hair.

The first version of the AcuBrusher was a huge success in Asia; people were loving how it felt when they used it as a massager and found it effective as a detangler. Based on their feedback and in-depth market research, we made adjustments to the AcuBrusher and launched 2.0!
Learn more about what people who tried the AcuBrusher 1.0 think of the product
Hi, everyone! I'm Junni Lin and I'm the founder of Uffy, a lifestyle brand from Taiwan.
Many people believe hair-brushing is literally just about brushing your hair and think that those with short hair, those who are bald, or men don't need to brush their hair. But the truth is, scalp health is way more important than simply having "a good hair day." Well, a healthy scalp naturally leads to beautiful hair. But it's much more than that!
​Product testing: What people think of the AcuBrusher​:
Scalp massages are for everyone. Skipping hair brushing and scalp massages over time can lead to hair loss. A great way to improve overall scalp health is to regularly incorporate hair brushing to stimulate blood flow to the scalp, which in turn, helps with delivering nutrients to the scalp and hair.
When you're feeling tired from overworking, take a breather and give yourself a 3-5 minute massage using the AcuBrusher. The short but sweet break will allow you to feel more relaxed. Brushing your hair every day can help relax the scalp, deliver stimulation to the peripheral nerve, boost blood circulation, and provide hair follicles with sufficient nutrients. All of this combined will allow you to grow out beautiful hair.   
The unique features of The AcuBrusher:
Patented far-infrared technology: Nanomaterials infused in the wooden base to help boost circulation and increase blood flow.
Relaxing head massage: Thanks to a combination of static-free bristles housed on a premium bouncy cushion.
Improve overall scalp health: Boost circulation and stimulate hair follicles to promote hair growth.
Calm scalp and relieve itchiness: 24K-gold plated bristles with rounded tips offer a cooling sensation that soothes the scalp instead of scratching it.
Ergonomic and compact design: Cobblestone-inspired shape for easy-gripping and less tension on the wrist.
The cushion that holds the bristles has a tiny hole that allows just the right amount of air to flow in and out; this maintains the cushion's bounciness, giving the bristles the movement they need when the hairbrush is used on the scalp.
Rusty bristles can cause breakage and pull hair out so our team made sure that would never happen to those using The AcuBrusher. The solution was to coat the antibacterial copper bristles with a layer of 24K gold, which in fact makes them static-free, too.
Less static helps with detangling,
as it means there would be fewer hair knots.
The nanomaterial is injected into the wooden base of the comb, which allows the far-infrared to be
activated upon contact with your body temperature.
No power source is required, and it never expires!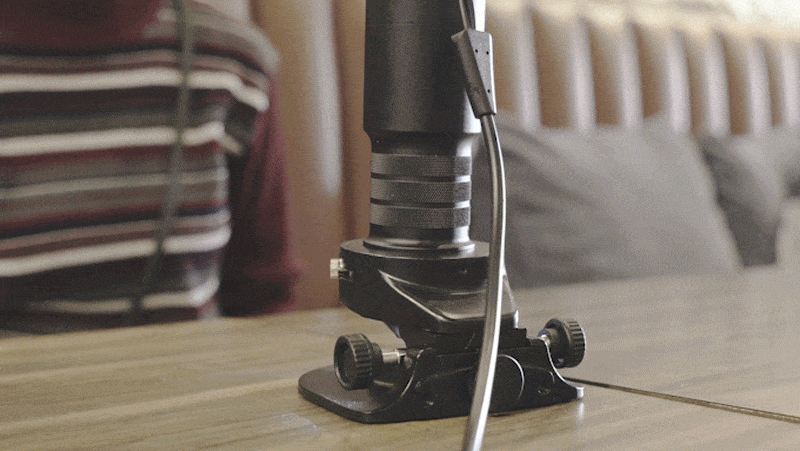 Witnessing the results firsthand:
With aims to maximize the benefits of the infused far-infrared,
we decided to remove the handle!
The cobblestone-inspired shape ensures that the surface area that comes in contact with
our hands is made to be the largest possible for the AcuBrusher.
Invisible to the naked eye, far-infrared rays are waves of energy that penetrate the surface of the skin to reach deeper layers of body tissue. It has the ability to widen your capillaries which
Stimulates increased blood flow, regeneration, and circulation
Improves detoxification and stregthens immunity
A key benefit of scalp massages is increased circulation. In fact, the scalp is one of the hardest places for blood to flow.
That's why the AcuBrusher helps you reach that daily goal with the addition of infused far-infrared, because every few strokes equal to dozens.
Did you know that hairbrushes should not be shared? They are considered personal items (like toothbrushes!) because everyone's scalp condition is different. In order to avoid affecting one another, it is best that couples or family members each have one of their own!
We have several colors to choose from, so pick a favorite!
• After each use, grab a clean toothbrush to give the bristles a simple brush-through and clean out any dust, build-up or hair.
• Once a month, clean the AcuBrusher thoroughly. Start by running some water on the side of the comb, and cleaning it with a wetted toothbrush and a small amount of shampoo.
Team Uffy has been in the hairbrush industry in Taiwan for over 6 years. From our experience,
we realized a lot of people don't truly understand the benefits of hair brushing.
In fact,
there's often a misconception that men or those with short hair don't need to brush their hair.
However, there are nearly 50 acupuncture points on our head that await to be massaged!
We decided to revolutionize the way people use combs.
Together with Taiwanese artisans who have over 40 years of comb-making experience,
we created a one-of-a-kind hairbrush they feel extremely proud of.
All AcuBrushers are carefully handcrafted by veteran artisans in Taiwan.